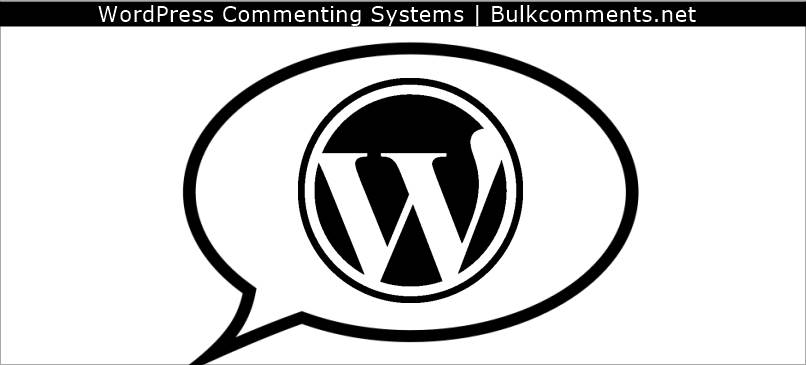 Today we'll discuss the Top 7 WordPress Commenting Systems that we've encountered.
Quite honestly, all of these comment systems are good and any of them can work for you.
But after this review, you may find that you're drawn to one over the other.
There's no right or wrong, it's all about preference.
Engagement metrics, like blog comments, are seen as a stamp of approval and therefore become something that some bloggers purposely pursue whether justified or not.
Though a metric proved to massage the ego, comments are more than just a token of vanity. They become an integral part of your site's social identity.
Fortunately, with WordPress and its native commenting system, adding a comments section is a snap! However, is the built-in system the one for you?
To help you determine, we've compared it with six other WordPress commenting systems.

Let's jump right into it!…
1. WordPress Native Commenting System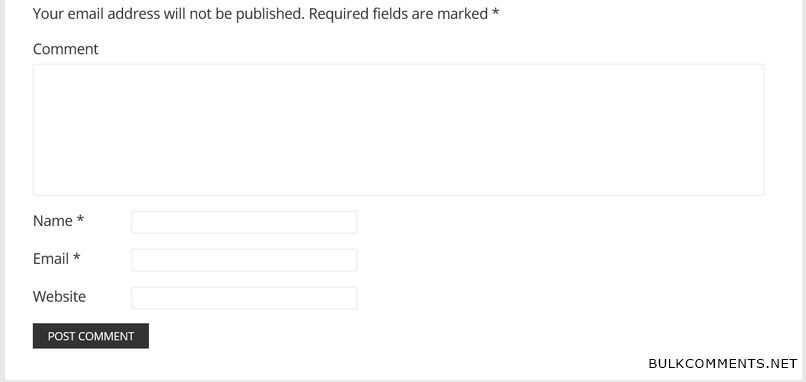 From the start, WordPress has made a commenting system an integral part of its design, and for a good reason: allowing comments is the best and easiest way for bloggers to connect with their readers.
A different view and a more intensive look at the subject are products of readers' comments that can enrich your blog posts.
Sometimes people like reading the comments almost or more than the actual post, as is seen with topical news pieces where a variety of viewpoints help to get the point across.
You will need to use the right configuration in order to receive the influx of comments you desire.
In order to find the commenting system that works best for your situation, we've taken the time to compare seven of the top WordPress commenting systems including the default system found in WordPress.
Accepting comments on WordPress doesn't require a plug-in.
With its built-in commenting system, WordPress has taken the guess work out of receiving comments.
Though it is a plain Jane system, The native WordPress commenting system has what it takes to do the job you require.
A lot of bloggers use this system because it is configured, pre-activated and like the WordPress core site itself, free of charge.
Bottom line: it's ready to use when you are.
This is what a lot of bloggers new to the web are looking for.
The built-in WordPress commenting system stands out for its user friendliness.
Readers are only required to leave their name and email address in order to comment.
Less hassle for visitors to go through equals more comments for you.
Keep in mind however, the built-in WordPress commenting system comes with its own set of problems but understandably so, since it has not seen a lot of upgrades in the last decade.
The most notable issues with this system are the lack of social media integration, no verifying notification sent to those who do comment, and zero support for in embedded conversation threads.
Spam leakage continues to be one of the bigger drawbacks and is frequently a complaint of WordPress users.
But for those of us who like to keep it simple and just want to clean up the messier areas of this system, there are plug-ins available that can upgrade and improve the built-in system's capabilities. More on WordPress native commenting system…
2. Jetpack Comments
From the makers of WordPress.com, Jetpack offers some of the broadest range of capabilities by far.
Jetpack contains within it, its very own commenting module, Jetpack Comments.
Jetpack Comments is an upgrade to the native commenting system rather than a stand alone unit.
This isn't necessarily a bad thing, Jetpack is able to mitigate the worst of the built in systems weak points while keeping the good points.
What this has done is create a hefty user base for Jetpack Comments, thus putting it in-line with the best of WordPress commenting systems.
An example of how this works is visitors aren't required to log in, instead they simply leave their name and email address, shortening the commenting procedure.
And for those that prefer to login socially, Jetpack offers this feature with Twitter, Facebook and Google+ accounts being supported in one single click.
In order to promote continued discussion, the option to receive email notifications informing the commenter of further replies to their response is available with Jetpack.
Ease of installation is one of Jetpack Comments' many perks as well.
Using Jetpack is as simple as using any other WordPress plug-in install. Simply activate it and sync it to your WordPress.com account, and there you go, you're ready to start the module.
With so much going on as far as features, Jetpack tends to be a bit resource consuming, and as such comes under fire at times due to this reason.
There is some validity to the complaint in that a great deal of the code included is unnecessary and only serves to weigh down your site. More on Jetpack…

3. Disqus Commenting System

When it comes to commenting systems, Disqus ranks high globally in popularity.
Part of its charm is its versatility. In addition to serving as a WordPress commenting platform, it also works in a multitude of other sites and blogging platforms using the Disqus API.
With a wide variety of functions, this system offers superior performance to the native WordPress commenting system in some very vital areas.
If you're big on appearance, this system is one of the more eye appealing of those available.
Some other features include: support for nested comments, social login and reply notification. And that's not all, visitors to your site can even reply to others visitors comments on by email, making it that much more likely that they will connect with other readers of your content.
As well as text comments, this system supports rich media so guests to your site can add pictures and videos to their comments.
Furthermore, comments can be made directly through their disqus account as well.
This feature is actually more worthwhile than you might think, as disqus users can look at others' comment history, including that on other sites, by "following" them.
This type of function is a quick way to find more places that have similar content, and who knows, users may run across your blog as a result.
Webmasters love the super flexibility this system gives them over the ability to moderate incoming comments, with three choices of moderation, front-end, back-end or direct from in box, this system is pretty advanced.
There are still some things about the disqus commenting system that you may not like.
Through lack of another method, guests are forced to sign in before they can leave a comment
Even with all the easy on-line login options like Twitter, Facebook and Google+ and of course a disqus account, site visitors are often discouraged by this extra step and won't bother to comment at all.
Besides being inconvenient, socially logging in threatens your guest's anonymity and privacy, just one more reason not to comment.
The near elimination of spam allows for better quality comments, making discussions flow smoothly. So what at first looks like a major flaw in design, may turn out to be a policy that is of real value to you. More on Disqus commenting system…
4. Livefyre Commenting System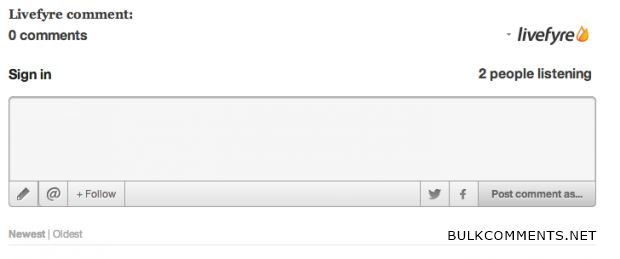 Up next, Livefyre hits the scene with its new and trendy Social-Sync feature.
Want to sync your comments section with the conversations on your favorite social channels? This feature does just that.
Another plus to this feature is the ability to tag friends and share comments to Twitter and Facebook directly.
Both disqus and Livefyre are external commenting systems with a lot of the same qualities, and as such are in direct competition.
And Livefyre, like Disqus has the same log-in requirements using social sign-in options along with using their own account system for commenting.
But as was mentioned before, not everyone who comments wants to go through the trouble of logging in, leaving this system in the same predicament as disqus.
But on the plus side, like disqus, Livefyre allows guest to look at other commenter's comment histories and other sites they have left responses on. In this way it helps grow online communities.
Then again, there are differences between the two.
The Livefyre commenting system was bought by Adobe in May 2016 and comes with a lot of market leading attributes.
Rated best in its class, this systems comment form has to be one of the most noteworthy of its features.
This notable comment system comes complete with a diverse text editing feature which allows respondents to format the comments they leave along with potent media embedding and the text editing options – including the ability to use bold, italics, add checklists and links.
In an instant, guests can embed their favorite pictures from Instagram or Flickr, or add videos from Vimeo and YouTube.
Comment editing is another of this systems pluses and allows guests to rethink what they want to say.
This system also allows the site administrator to edit comments if necessary.
But that's not all, blog owners find even more options to get excited about with Livefyre.
The system is topped off with spam protection, profanity filters, and community flagging. More on Livefyre commenting system…

5. Facebook Comments
Facebook's popularity has made it a household name.
Even if you're not someone who follows the Facebook trend, we all visit it sometimes.
Then it should come as no surprise then that your readers are probably Facebook users too.
Like the process used by your Facebook wall, Facebook Comments works the same way.
The well known style is easily recognized and will allow users to leave responses in a way that they are already familiar with.
That's plus number one for WordPress commenting with Facebook.
Among other reasons to give this system a go are the one-click social logins via Facebook, reply notifications, and of course, where else do your reader's share posts? – Facebook of course.
As well, spam reduction is a positive side effect as a Facebook account is required to comment.
Problems with this system include its technical processes: you have to make an app on the Facebook for Developers website before you can connect it to the built-in commenting system and both joining it and creating the app can be quite difficult.
Please realize that the Facebook Comments plug-in only simplifies the process of joining your app with your WordPress site, it doesn't install Facebook comments on its own.
With few customization options, matching styles with your content may not be possible, making this one more setback for this system.
This can mean that your comments section will look a bit awkward or worse, like a visual nightmare.
Unfortunately, there hasn't been a plug-in made that can solve some of the problems that Facebook Comments comes with.
One case of this is the preference some viewers have for keeping their on-line anonymity.
For some this is considered a lack of privacy, and great content and the ease of commenting won't be enough to change their minds about this personal rule.
With Facebook comments, the commenter's name and profile picture are shown and this will definitely turn some people off.
This can, however, have a positive spin, people love others to notice what they've said and having the name and profile picture published pushes commenters to respond with something that's worthwhile.
That said, your comments section should fill up with vibrant posts and conversations people want to read and participate in. More on the Facebook commenting system…

6. CommentLuv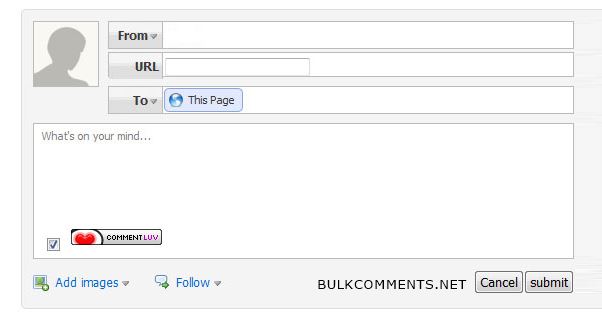 By using incentives, CommentLuv encourages readers to leave comments.
Readers who leave comments are rewarded with a backlink of a titled link to their latest blog post when they fill in the optional website field.
CommentLuv can be presented to your readers in several different ways.
Some of the ways to do this is to allow registered guests to pick which of their posts they want linked or to offer to do-follow the links that are produced by their comments.
Imagine what this will do for your comments section with growing numbers of bloggers responding when they also know that they can be rewarded a backlink in the process.
Respondents will take the time to write a quality comment if they know that they are getting a titled link as they will want to write something that will attract clicks.
Wouldn't you know it though, that although backlinks are CommentLuv's greatest attraction, it also becomes its biggest headache.
Using CommentLuv has a way of drawing a lot of responses that are simply advertisements for the person commenting.
And the spam becomes obvious when you start to see comments that sort of relates, but doesn't really, all because they want that backlink.
End result: you will have to use discretion and read over comments carefully. More on Commentluv…

7. Postmatic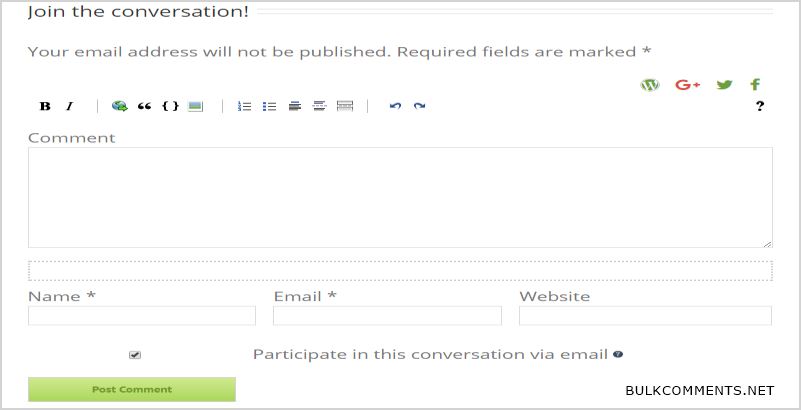 This last offer in our WordPress commenting systems feature, Postmatic, may be the most provocative of the set.
Almost all commenting plug-ins work on the premise that the reader visits your site, views your content and then responds by leaving a comment.
There is however, another really often used way to communicate which Postmatic has climbed aboard and utilized: none other than email.
Making the most of this technology, Postmatic has opt-in plug-in capabilities as well that are pop-up, slide-in and top bar supported.
Even people who simply comment at the end of your post will be signed up to your email list.
And if you thought that was innovative, wait til you hear this.
As soon as a guest is subscribed to your email list, they automatically get every new post you write in their email inbox.
What's more, your content is converted into HTML, so not only do they get the whole post, they get to read it right from their in box.
Now here's a twist, people wanting to comment don't even need to go to your website.
Comments have never been so easy. The guest can just reply right from their email inbox by writing their comment and hitting reply.
Then, the comment that was emailed gets submitted straight into your website at the time of sending
Not only that, but those who are subscribed get the comments that other people have made sent to their inbox as well, and once again they can reply to them by responding to the email.
The ease of delivery allows this system to expand the number of discussions your content inspires.
Could using Postmatic have an adverse effect of a loss of web views?
Yes, this could possibly happen since people won't have to go to the actual website to read posts.
But keep in mind that with email, you can read content in even the most prohibitive of places such as work where being seen reading a personal blog would be distasteful.
When it gets right down to it, does where people read your posts really matter? Is the fact that they are reading and enjoying your content in the way that they want to consume it not enough?
You'll have to call it on this one. More on Postmatic commenting system…

In Conclusion
Commenting systems are no different than anything else in life and comes with pluses and minuses.
There is no such thing as the "perfect" commenting system.
For those who don't want to configure or primp their comments section, and have little time to deal with WordPress, then the native comments system will be suitable enough for you.
As if you need a bit more than the basics, you might want to add a plug-in like Jetpack to further the functions of the built-in system.
And for those who are still not satisfied and want even more options, try one of the external commenting systems such as disqus or Livefyre.
With external systems you get more power and they are beautifully designed, coming with a number of enabling options that allow guests to extract more from the comments that are left making for a real sense of camaraderie.
And Facebook Comments is a logical choice if your site attracts a lot of social media types.
And if you're a webmaster who wants to give other webmasters an added incentive to comment on your blog, CommentLuv, with its backlink feature, makes this possible.
Now it's up to you to you to look over each system and separate the good from the bad in terms of what works for you, and from there, make up your mind.
And if your current system is failing you, use that knowledge to work out what it is that's going wrong and find a WordPress commenting system that can correct these flaws.

BONUS: wpDiscuz
A new one rising in popularity is wpDiscuz. They offer a real-time commenting system that contains a custom WordPress comment form and fields. It has been specifically designed to supercharge the WordPress native commenting system. They claim to be the best Disqus alternative – especially if it's important for you to retain your comments in your database. In addition, they're an alternative to Jetpack, Livefyre as well as Facebook comments. Their features are vast and everything seems to work super fast. Who knows, this up & comer may be just the one for you! More on wpDiscuz commenting system…

Note: We have only linked to WordPress commenting plugins that are the official plugins of a particular commenting system provider, not by a third party. Albeit, sometimes third party plugins do work better, but you'll have to be the judge of that.
So which commenting system do you use and why? Let us know in the comments below!